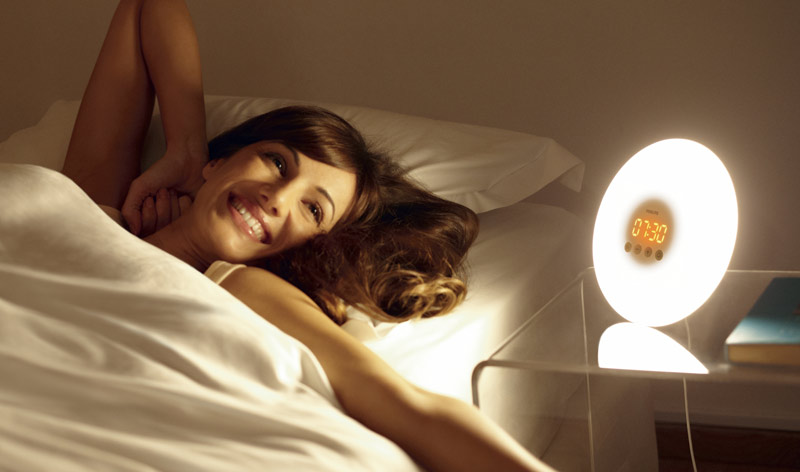 The Philips HF3500/60 is a budget level dawn simulator and is the #1 Light Therapy seller on Amazon.  If you don't need the extra features of the HF3520 (or don't like its price tag), this model is suitable for most applications, but be aware that the lamp is not replaceable.
Features
Sunrise Simulation
The Philps HF3500 has a yellow light for sunrise simulation that wakes you up naturally.  The light has 10 brightness settings and is intended to mimic the sunrise, increasing light gradually over the course of 30 minutes from dim yellow to bright yellow light.
Gentle Beep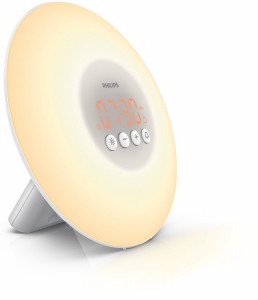 In addition to sunrise simulation, this model features a beeping "alarm" that gradually increases in volume over the span of 1.5 minutes at the desired wake up time, to ensure you're awake.
Bedside Lamp
The HF3500 includes a bedside lamp feature that allows you to read before bed.
Snooze
Just like your favorite blaring alarm, the Philips HF3500 also has a snooze button.  The unit will enter snooze mode for 9 minutes, and then begin playing the gentle beep sound again.
Powered by Scientists
Philips claims that their line of wake-up lights are the only ones "proven" to work by independent clinical research.  They state that their wake up light wakes your more naturally, energized, and with improved mood.
Specifications
Anti-slip rubber feet
Tap top to snooze
Display brightness control: 4 settings
Instore demo fuction
Number of alarm times: 1
Snooze button for sound: 9 minute(s)
Charges iPhone/ iPod Touch: No
Controlled by iPhone/ iPod App: No
Number of Wake-up Sounds: 1
Play music from iPhone or iPod: No
FM Radio: No
Increase energy in morning
Wake up gradually by light
Brightness settings: 10
Colors in sunrise simulation: Bright yellow
Light intensity: 200 Lux
Sunrise simulating process: 30 minutes
Sunset simulation: No
Box Dimensions (WxHxD): H200 x W200 x D130 mm
Box Weight: 600 gram
Cord Length EU/US: 150/180 CM
Frequency: 50/60 Hz
Insulation Device: Class III
Insulation Power Plug: Class II (double isolation)
Power Input: 7.5 W
Power Output Adapter: 5.4 W
Product Dimensions: H 180mm x W 180mm x D 115mm
Product Weight: 290 gram
Replaceable Lamp: No
Type of Lamp: Liteon SMD Lamp LED
Voltage: 100/240 V
Country of origin: China
CTV Code (EUR | US): 8843350001 | 884350060
The Best Budget Dawn Simulator
Amazon Rating

Features

Quality

My Rating
Summary
If you're on a budget, the Philips HF3500/60 Wake-Up Light will do in a pinch, but the Philips HF3510 Wake-Up Light ups the feature ante with dusk simulation and touch-sensitive controls. If you're just looking for the best dawn simulator around, the Philips HF3520 is the one to beat, but it twice the price of this model
Pros:
Sunrise simulation wakes you gradually
Bedside light with 10 light settings
Color flow of sunrise: bright yellow
Gentle beep ensures you get up on time
Snooze function
Cons:
No light coloring
No sunset simulation
Only one option for wake up sound